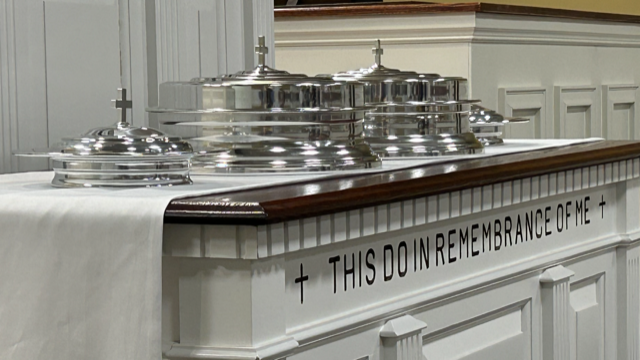 Invitation to the Lord's Supper
In obedience to God's word, we invite visitors to join us at the Lord's table who come worthily, with discernment, and in self-examination. The Apostle Paul warns in 1 Corinthians 11:27-32:
Whoever, therefore, eats the bread or drinks the cup of the Lord in an unworthy manner will be guilty concerning the body and blood of the Lord. Let a person examine himself, then, and so eat of the bread and drink of the cup. For anyone who eats and drinks without discerning the body eats and drinks judgement on himself. That is why many of you are weak and ill, and some have died. But if we judged ourselves truly, we would not be judged. But when we are judged by the Lord, we are disciplined so that we may not be condemned along with the world.
Since the Lord's Supper can bring both judgement and blessing, we desire to administer this holy meal with the utmost care. All who meet the following criteria are welcome at the table:
1. You have made a public profession of faith and have been baptized in the name of the Father, the Son, and the Holy Spirit.

2. You are repentant because of your sins and seek to obey God's commands.

3. You are a member in good standing (i.e., not under discipline) of a Protestant Church that affirms the gospel as summarized in the Apostles' Creed and/or the Nicene Creed.
If this does not describe you or your church, or if you do not understand these criteria, we ask you to please abstain. If you wish to commune with us on a future visit or desire any clarification, please speak with one of our elders after the service. It is our prayer that this practice blesses and protects the recipients of the Supper, encourages Christians to reflect upon their relationship with Christ and His Church, and directs all visitors to the death and resurrection of Jesus as the only source of spiritual life.