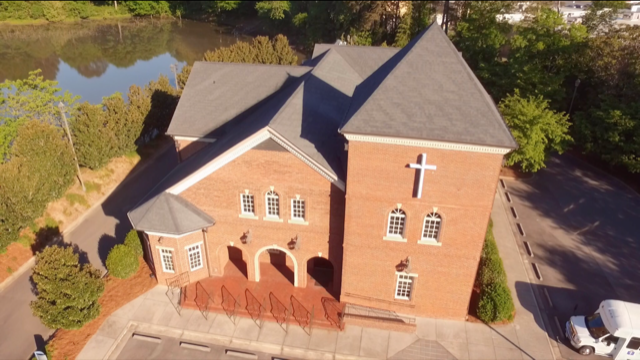 Sunday School
Sunday School starts at 10:00 am and goes until 10:45 am.
We offer two adult Sunday School classes:
One class meets in The Glass Room, which provides a picturesque view overlooking the pond behind the church building. This class is led by Elder Jim Bartenfield.
The other adult Sunday school class meets upstairs in the fellowship hall. The teaching role is shared by Elder Derick Land, Chris Logan and Jason Coker.
On the first Sunday of each month the women gather in The Glass Room, and the men meet upstairs in the fellowship hall.
We also offer Sunday school classes for our children and youth:
Our youth Sunday School class is taught by Luis Ramirez. It meets in one of the education rooms adjacent to the sanctuary.
Our children's class is taught by Pam Walls and our nursery is supervised by Nicci Miles. Both classes are conveniently located next to the adult Sunday School class that meets in the fellowship hall.
Sunday Morning Worship
Sunday morning worship starts at 11:00 am and goes until around 12:15(ish). We celebrate the Lord's Supper every 3rd Sunday of each month.
A nursery for children 3 and under is located upstairs and is available during the worship services. There is also a Mother's Room conveniently located adjacent to the sanctuary.
Sunday Evening Worship
Our Sunday evening gathering begins at 6 pm and the activities vary:
On the 1st Sunday of each month we have a fellowship dinner. During the warmer months (April-November) we usually grill out near the back of the building where the The Glass Room is located.
On all other Sundays of each month, we meet in the fellowship hall for Bible study.
Wednesday Evenings
Our Wednesday evening service begins at 6:30 pm.
Every 2nd Wednesday of each month we have our Members' Meeting.
On all other Wednesdays of each month we sing hymns, read Scripture, and mainly pray together.
---
Come join us for worship!
Sunday School 10:00 am
Morning Worship 11:00 am
Evening Worship 6:00 pm
Wednesday Prayer 6:30 pm